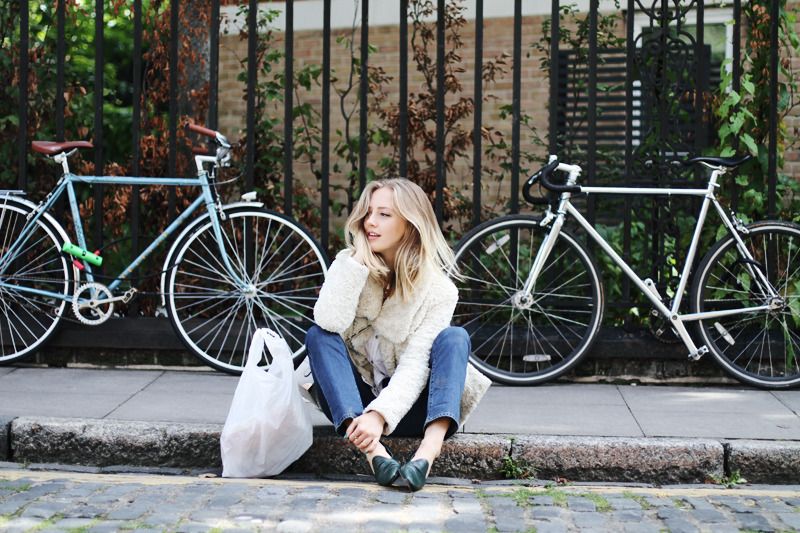 VINTAGE JACKET / AC FOR AG JEANS JEANS / REISS BOX BAG / VINTAGE SHOES
Time for reflection! Nominated to do this story on the blog by my friend and my most recent travel partner Noor, I felt intrigued by what I would actually have advised myself, starting out blogging. Bear in mind, when I started blogging, there was a completely different mindset surrounding it. Today it can with luck and hard work become a career. When I started back in 2009, it was purely for the fun of it and the excitement of sharing with the blogging community, that would then grow into a fully functioning influencing industry.
Little did 16-year old me know, that 6 years on this love for sharing would become my job and I'd be doing my blog full-time. I have grown both personally and technically, so I do hope my experiences will be able to support those of you with blogs!
1. DO WHAT YOU LOVE
This will go as number one, and I cannot emphasise this enough. Your blog is your authenticity, and it's so easy looking at other peoples work, thinking you need to change your style / persona drastically to be followed or liked by the industry. Be you!
If you are true to your style and am genuinely excited by the content you're creating, you are way more likely to spark that excitement in others.
It sounds cliché, but it's the only thing you shouldn't compromise, and blogging isn't a competition. There's enough space on the World Wide Web for all of our unique individual selves.
2. READ THE CAMERA MANUAL
Onto the technical side - I tell this one to everyone who asks. Reading the entire camera manual one Sunday back in '10 when I got my DSLR was the best investment I have done for the blog. It will teach you all you need to know, and your knowledge will elevate your content allowing you to be more creative.
3. THINK OUT OF THE BOX
It may feel safe to create content that just ticks the boxes, but say you love the editorials Grace Coddington creates in Vogue or the way i-D does their portraits and hand-written interviews to go with it. You can do anything you like! Do some research and pinpoint exactly what it is you like. The more you understand what excites you, the easier it gets to communicate content that is unique and different.
4. EXPERIMENT WITH LENSES
Oh, when I found out.. This is an investment, so don't rush into it, but take some time to figure out exactly what you want. There's so much to this, so figure out which type of photography you will be doing (if any at all) and get a lens that works for you. I personally love prime lenses and wide-angles. The wide angles are great for city shooting!
5. BE HUMBLE
It's so easy to think that the number that goes before the K on your Instagram followers is your value. Wether you have 20 followers or 200K, remember that it's not just a number. You are communicating to actual individuals - people who subscribe to your content and regardless of the number, each one who joins is an amazing and valuable thing in itself. Be humble and have fun!
I HOPE YOU ENJOYED THIS LITTLE ARTICLE, AND THAT IT WAS USEFUL TO YOU IN SOME WAY. I WISH EVERYONE THE BEST IN THIS BLOGGING AGE!
X
SARAH MIKAELA
instagram
|
facebook
|
twitter